Tame The Deep
Stateline Sportfishing, Offering Fishing Adventures In Brookings, Oregon and Crescent City, CA.
Custom fishing charters for everyone in the family, both fresh and saltwater alike.
Relaxed schedule with delayed departures available.
Book A Reservation Now
Our Available Trips
Brookings Fishing Charters
Sport Fishing Charters located in Beautiful Brookings, Oregon
Come and let me share my passion and expertise providing a memorable Brookings fishing excursion for the entire family. Stateline Sport Fishing can customize a fishing trip to suit your needs and desires.  Whether you want a day on the ocean catching delicious ling cod and rock fish, or fishing for ocean salmon, halibut, or albacore (when in season) aboard our 27′ Kingfisher Coastal Express; or, during the winter months, you can opt for Crescent City fishing charters to fish for salmon or halibut. We are licensed and insured, all tackle and bait are provided as well as cleaning your catch of the day.
We're thrilled to announce the start of another Brookings fishing charter season! Depending on weather conditions, we'll begin our operations in Brookings, Oregon and continue fishing through May 14th.
Crescent City Charter Fishing
After May 14th we'll be heading over to Crescent City where we'll be stationed until the rockfish closure on October 15th. We're excited to be setting up shop in a beautiful new facility that's equipped with top-of-the-line amenities such as bathrooms, showers, and cleaning stations. It's conveniently located near Englund Marine for all your licensing, ice, and tackle needs, making it a great choice for those coming from the Rogue Valley via 199. Not to mention, the harbor is much closer to some prime fishing spots for bottom fish, salmon, and tuna. And, with the limit being 10 rockfish and 2 lingcod in California versus 5 rockfish and 2 lingcod in Oregon, you'll be able to catch more fish for a great price.  Please give me a call to book your next Crescent City fishing charter.
This year, we're pulling out all the stops with our brand new 2023 30' Kingfisher Coastal Express, the 'Bout Time, which boasts more deck room and many upgrades. We've added a private flush toilet for your convenience and privacy, as well as autopilot and a Minn Kota Ulterra trolling motor with "spot on" technology to help hold the fishing boat in place on a spot or school of fish. You won't want to miss out on this unforgettable Crescent City fishing experience!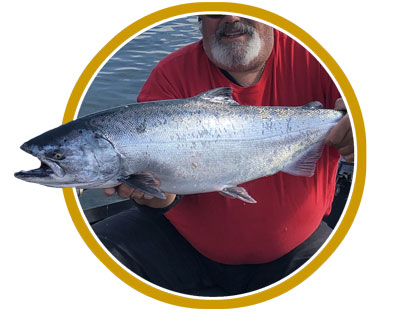 Salmon fishing
When in Season – Fishing for Chinook (King) and Coho (Silver) Ocean Charters.  We also put out our crab pots. Shellfish permit needed
Rockfish & Lincod
4-5 Hour Rock fish trip or 6 Hour Rock fish and targeted Ling Cod Trip we also put out our crab pots. Shellfish permit needed.
Crescent City Fishing
Salmon or Halibut. 6-8 hours fishing for Salmon or halibut as seasons permit
What Our Clients are Saying
My husband Stan spent an absolutely glorious day yesterday with Rich Signorello fishing the Chetco bay. Rich's many years of experience fishing (and catching!) enhances the time well-spent trolling the bay, and put a huge smile on Stan's face as he reeled in a beautiful Chinook! Thank you so much, Captain Rich! We will be back to fish with you, again and again!
I took a guided fishing trip with Rich Signorello on Saturday October 12 2019, at 730 am. Rich Showed up on time with his son (deckhand) and ready to fish. Rich greeted me with a positive attitude and was extremely nice the whole trip. Rich and his son are very professional with their services and are very knowledgeable about fishing. Rich knew how to read the river very well and we were on the fish all day long. I was able to catch two salmon in the short amount of time that we were on the water and Rich netted my fish with ease. Rich and his son did all the work and all I had to do was focus on not missing a bite. When the fishing trip was over, Rich cleaned and filleted my fish and put the fillets in bags for me. This was a great experience and I would highly recommended Rich's fishing guide services to anyone of any level of fishing ability.  You will definitely learn a thing or two from this guy and he was fun to hang out with. I will definitely be using Rich's guide services again. 
[Rich] knows and loves the sport and wants to share the excitement and fun with others.  Great experience for a first timer.  Enjoyable experience all around.  I walked away with a nice salmon for dinner 😊
We went out at a time when the tides were changing, so it took about an hour to find a place where the fish were biting. However, during that time, both Rich and Matt demonstrated an excellent knowledge of the local area and knowing where to look (only taking us a couple of stops to find the fish). Even before the fish started to bite, the trip was very entertaining. When the fish did start biting, it was one after another until we had caught our limit on rock fish. Rich and Matt were awesome guides and really fun to hang out with. They were also well prepared with food, drinks, and motion sickness medicine (if needed). I had a lot of fun with them and can't wait to go out again. Hopefully next time we can head after salmon in the deeper water. Thank you again for a great time and all of the fish!
If you're looking for a sportfishing charter in the Southern Oregon or Northern California region, we've got you covered.  We're located at the Stateline, in Brookings, Oregon, and offer Crescent City fishing and off-shore fishing experiences.